Educators
Educator Resources
Thank you for your commitment to educating the next generation of physicians and pharmacists about using the Texas Prescription Monitoring Program (PMP) to improve patient safety and health outcomes. This page contains curated teaching materials for quick and easy integration into your lesson plan.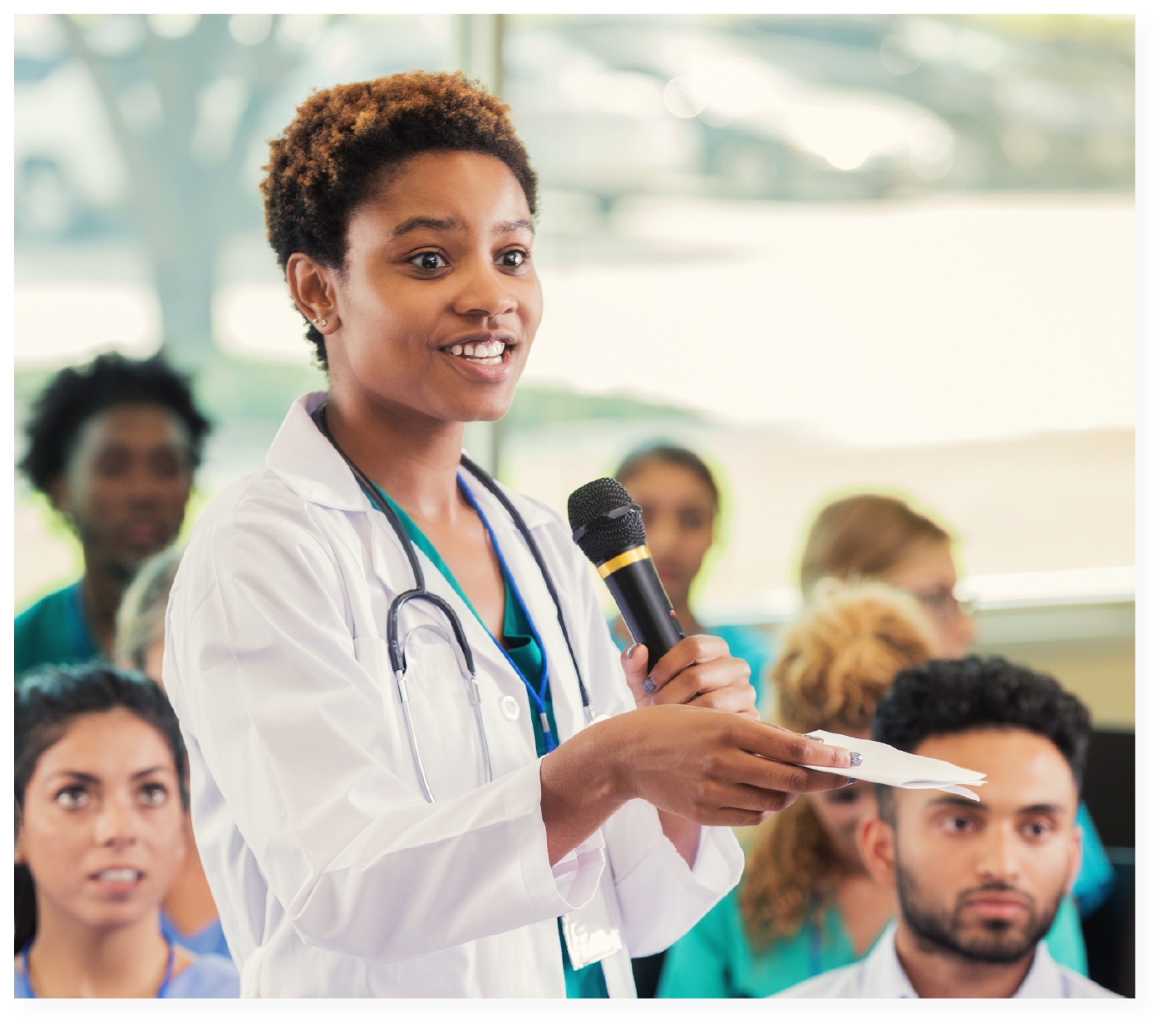 Using These Resources
Start by viewing the Instructor Guide to review the lesson plan and an overview of the course materials. Then, download pre-built slides and handouts for easy use as a classroom presentation or as pre-class reading.
Basics/101
The 101 materials provide a variety of resources that have been carefully designed and curated for use in the classroom or in the field. ​This content is ideal for learners who are new to or have limited familiarity with the PMP.
Upon completion of this unit, your learners will be able to:
Explain what the PMP is, why is it used and how it works.
Explore the types of patient data available in the PMP. 
Identify how and when the PMP can be accessed.
Highlight the importance of using the PMP for prescribers and pharmacists.
State the benefits of using the PMP to patients and public health.
Browse through aggregate data from the PMP to identify dispensation and query patterns.
Look at country and statewide opioid-related data to understand the scope of the opioid crisis.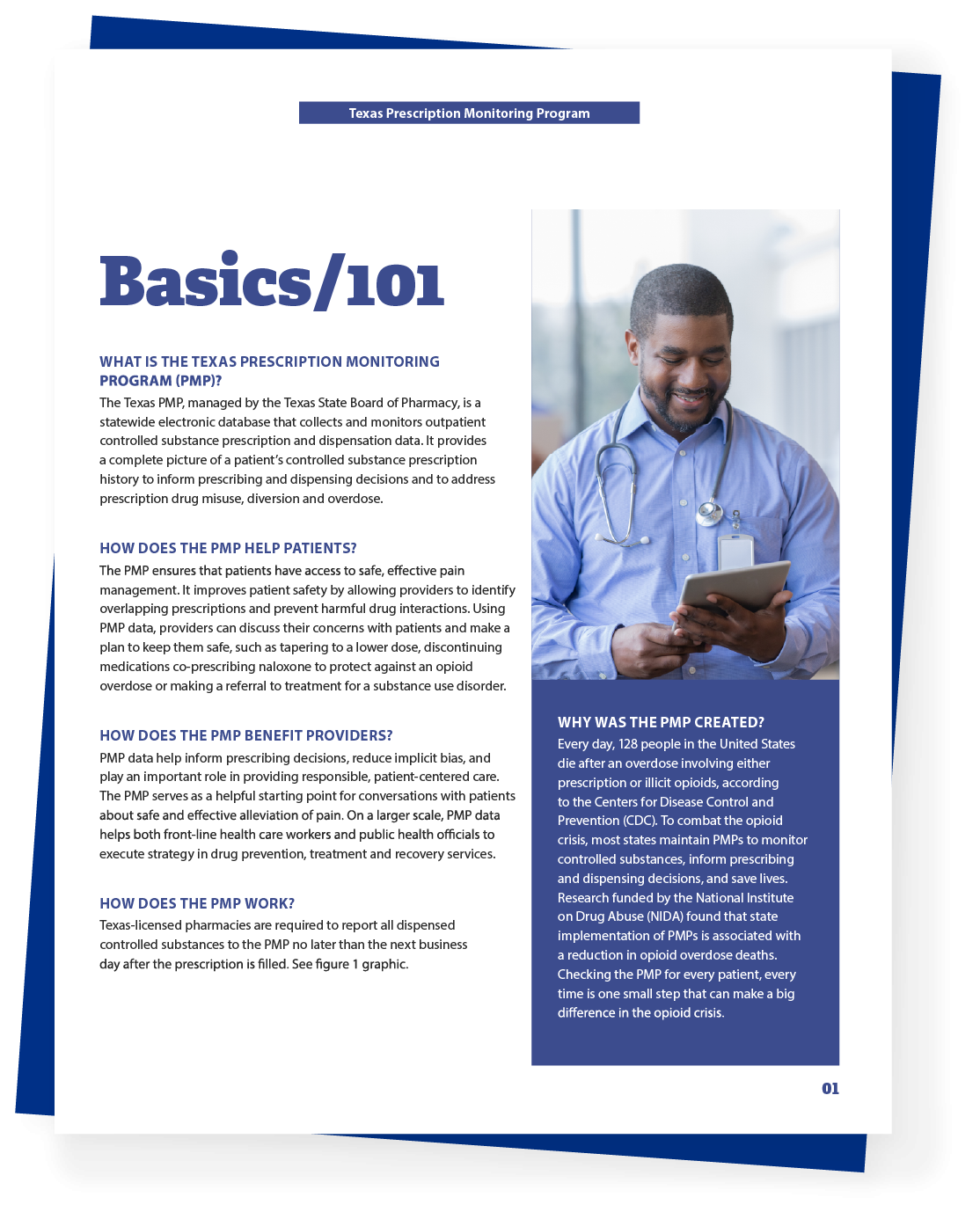 Further Resources
PMP Continuing Education Video Module
This expert-led training video covers the basics of using the PMP and navigating conversations with patients regarding safe and effective alleviation of pain.
Use this tool to access public data and statistics that provide context to the larger opioid crisis.
Advanced/201
The 201 course materials build upon the basics of the PMP and examine health communication best practices for navigating difficult conversations with patients about concerning PMP data. This course is ideal for learners who have completed the PMP 101 unit.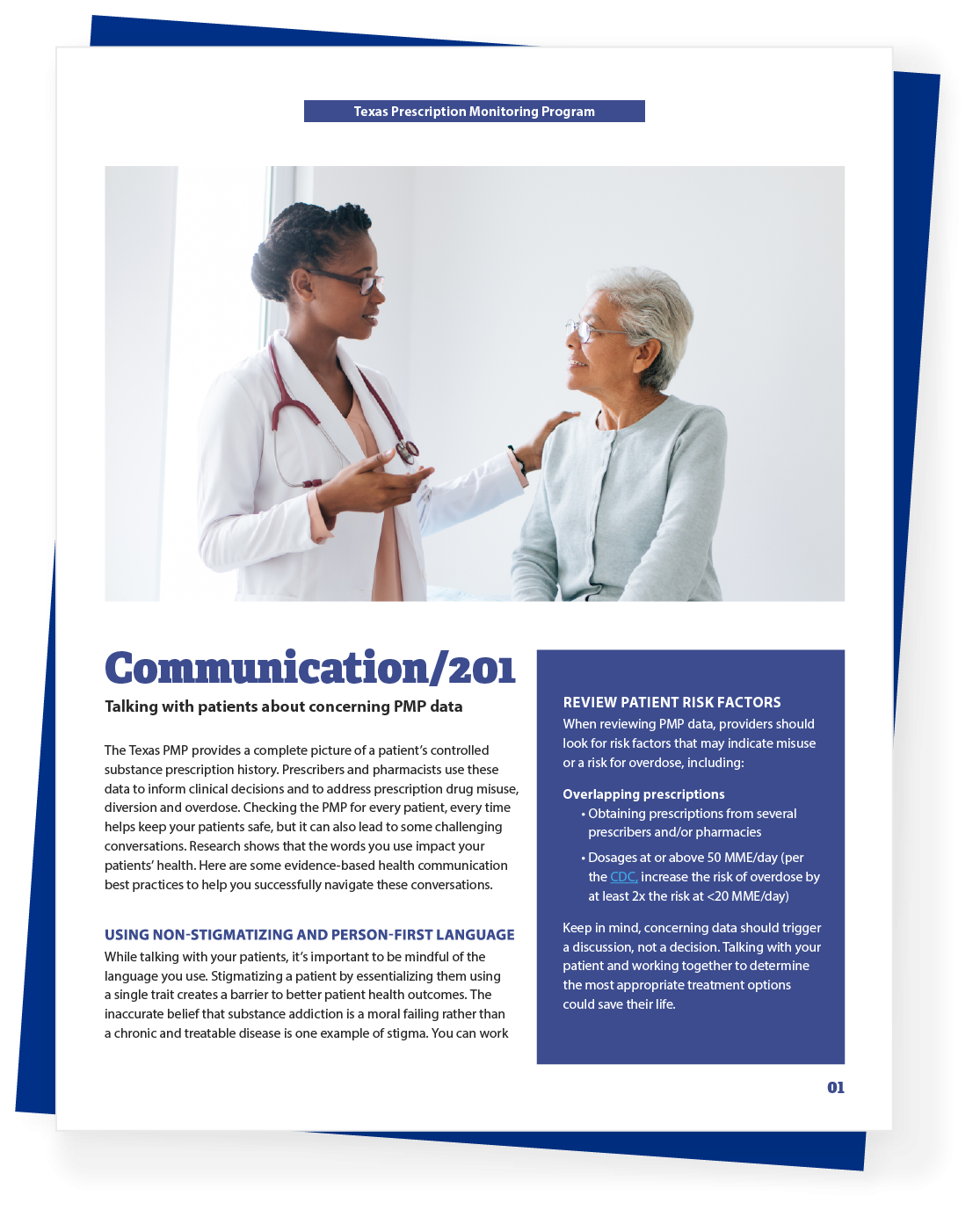 Upon completion of this unit, your learners will be able to:
Review PMP data to identify patient risk factors.​
Explain how the PMP can prevent implicit bias.
Use non-stigmatizing and person-first language when discussing substance use disorders.​
Facilitate difficult conversations with patients regarding prescription drug misuse.​
Connect patients with harm reduction strategies, treatment and recovery services.
Further Resources
Texas Targeted Opioid Response
See how Texas is addressing the opioid crisis - from prevention to treatment and recovery services - and view a series of videos designed to educate the public on prescription opioids.